200 Women Benefited From Hon. Ikengboju's Empowerment Programme In Okitipupa/Irele FC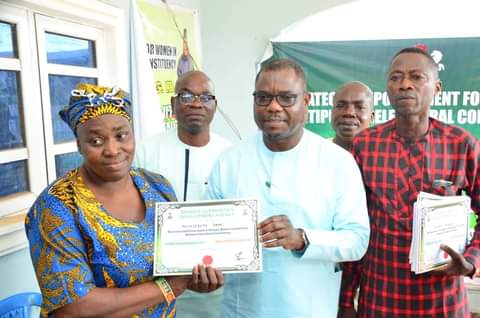 When We Empower Women, We Are Building A Nation — Hon. Ikengboju
Daily Metro News NG
The Deputy Governorship candidate of the PDP and member of representing Okitipupa/Irele Federal Constituency at the National Assembly, Hon. Gboluga Ikengboju, on Thursday, 26th, November, 2020, empowered 200 Women among his constituents.
The programme which is part of the 2020 constituency projects sponsored by the lawmaker under the supervision of the Border Community Development Agency (BCDA), some over 200 women trained in various vocations.
After being trained on numerous skills like hospitality, cake baking, and other small and medium scale businesses, each of the women were given a cash sum of N100,000 each to either start up on their new skills or support their small businesses.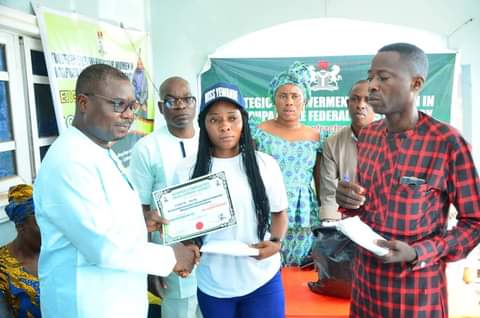 The beneficiaries were strategically and randomly selected from Okitipupa and Irele LGAs to include the vulnerable and down trodden irrespective of political or religious affiliations.
Speaking with newsmen at his Okitipupa Constituency office, Hon. Gboluga noted that the project was strategically chosen to support women because of their immense contributions to the family and the society at large.
He said, "When we empower women, we are building a nation, and also alleviating poverty.
"We must equip our women to keep the family and society stable" he stated.
Explaining further, Hon. Gboluga said, "We decided to train beneficiaries on cake baking and other small scale businesses because it is less capital intensive. We believe they will be able to kick start something on what they have learnt immediately."
While reacting to this kind gesture and opportunity, one of the beneficiaries from Ajagba in Irele LGA, Mrs Olutayese Abosede noted with joy that the programme was timely and impactful as she would be able to start her own business, with the N100,000 given.
Olutayese said, "I want to sincerely thank Hon. Gboluga for this laudable innovation.
"I have leant how to bake cake and I am sure to kick start immediately"
In a similar manner, another beneficiary from Ikoya, Okitipupa LGA, Mrs Kemi Akinlosotu also applauded the programme, saying it is one of the finest in recent times.
The lawmaker further the soul of youths in his constituency, assuring them that, Youths Empowerment and other impactful programmes for their class will come up in few weeks time.