ADC Collapses Structure For Labour Party, Forms Star Alliance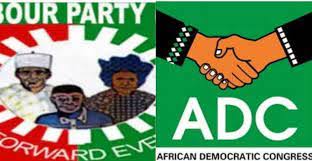 Daily Metro News NG
The African Democratic Congress (ADC), has collapsed its structure for the Labour Party (LP) and endorsed the presidential candidate, Peter Obi and his running mate, Yusuf Datti Baba-Ahmed.
This was facilitated by the ADC Board of Trustees (BoT) Chairman, Mani Ibrahim, LP Chieftain, Professor Pat Utomi, and other stakeholders of both parties.
The star alliance partners are: Nigeria Mothers for Good Governance, Fulani United, Nigeria Artisans, League of Imams, Nigeria Traders, Yoruba United, Mega Political Coalition, Kanuris United, Almalgamated Coalitions, CEG Groups and Nigeria Legions United.
Speaking at a press conference in Abuja yesterday, ADC's BoT Chairman said the move became necessary so as to enable the LP presidential candidate emerge victorious in the forthcoming election.
This, he said, will enable both parties to have good numbers of legislators to back Obi-Datti's Presidency.
He said the party will do everything within its power to protect the votes of its supporters.
He said: "Today, we come together as a family and as a formidable third force: our Grand Patrons and Board of Trustee members; our National Executive Council; our National Working Committee; our Diaspora Network and our National Youth Council to take stand in solidarity, moving forward for the viable Presidential Candidate the entire nation is clamoring for.
"We will do everything within our power and position to ask party members and supporters to vote for Peter Obi and Datti Baba-Amed for President and Vice President.
"It is our request that for this collaboration to be more effective, ADC candidates for governorship, senatorial, house of representatives and states assembly positions should receive reciprocal support where they are more dominant than their Labour party candidates.
"Our position, advocacy and projections are firmly based on a government of national unity, collegiate and translational leadership which we believe this alliance will highly benefit from."
In his remarks, Utomi commended the party for its decision to endorse Obi/Datti.
He noted that Obi is mentally and physically prepared to lead Nigerian.
He however noted that that the party will protect the votes of its supporters.