AKEREDOLU'S MISRULE IN ONDO STATE (21): TURNS AKURE TO A HUGE DUMP SITE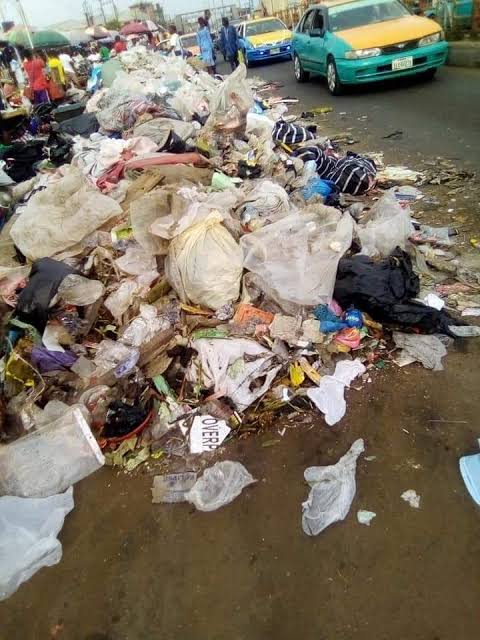 By Kennedy Ikantu Peretei.
Akure, the Ondo State capital, unarguably the cleanest city in Southwest Nigeria before Rotimi Akeredolu, SAN became governor is a very sorry sight to behold now.
Starting from the entrance to the Government House, Alagbaka, where Akeredolu and his family reside, it is difficult to believe that a Governor lives there. The immaculate white paint that welcomed visitors to the Government House is looking more like some ancient shrines. The entire frontage overgrown with weeds. A friend last week sarcastically remarked that, one does not need to ponder about the kind of Governor Ondo State has, if he merely sees the front of the Government House.
Everywhere in the city centre is littered with huge heaps of refuse. Median of major roads are lined up with clusters of waste bins amidst decomposing contents. The Ondo State Waste Management Board in previous administrations had compactors that cleared refuse from homes, public buildings and markets. That is no more. Through some shadowy arrangements, private companies have taken over the evacuation of refuse, a responsibility they have tragically failed to discharge.
The Akeredolu government has not been able to deliver on any area of social responsibility to the people of Ondo State. When the Free school shuttle buses disappeared from the roads, the explanation was that, government can no longer fund the service. When Mother and Child Hospital started to ask for astronomical charges for services that were previously free, the answer was that, government had no money. When state owned tertiary institutions were plagued with intractable strikes and protests, government's reply was, "no money".
One is then tempted to ask, what exactly does the Ondo State Government have money for? Because even the most basic, being workers' salaries are not paid.
Akure, a city that attracted tourists and visitors is now a ghost of its former self. Most of the roads are no longer motorable due to potholes or uncompleted construction works that have taken more than four years. Driving through major roads at night used to be fun. Same roads are perpetually in the dark with overgrown grasses in the median. This was not the Akure that Akeredolu inherited in 2017.
In one of his usual outbursts, Akeredolu was reported to have said, he will punish Akure for not voting for him during the 2020 Governorship election. The fact that, he did not appoint a State Commissioner for Akure South Local Government in his second term was attributed to his poor outing at the elections. While, this kind of vindictiveness is the governor's trademark, will it be sensible to scapegoat a State Capital that is home to all Ondo State people. There are so many areas in Akure that you can hardly find indigenous Akure people. But this is the story of Akure and Akeredolu.
No matter the offence of Akure residents, it will be advisable for Akeredolu to at least return the city to how he met it. Restore street lights, clean up the refuse that have littered everywhere, repaint the Government House and clear the overgrown grasses around the place.
This series will continue shortly.