AKEREDOLU'S MISRULE IN ONDO STATE (9): PUTS SON ON COLLISION COURSE WITH THE LAW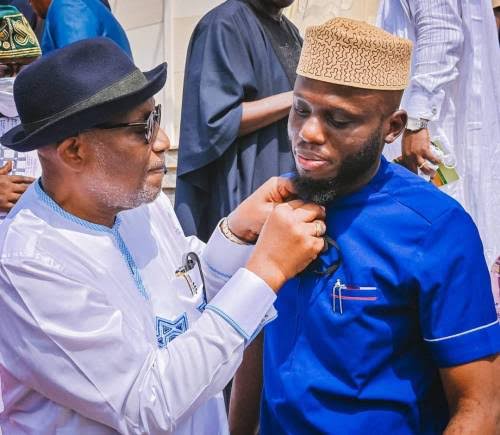 By Kennedy Ikantu Peretei.
When at the beginning of December, l predicted that, workers in the employment of the Ondo State Government will celebrate Christmas on empty stomachs, the government propaganda machinery dismissed it with the wave of the hand.
The empty markets across the State, the gloom in many homes and inability to purchase basic needs during Christmas told the story better than any artist could have painted.
As if to mock the workers, Governor Rotimi Akeredolu, advised workers not to overspend during the Yuletide. When there is no money to be spent, how does one over spend? This is not the subject for today's series, so, l leave it at that.
It is no longer news that, Babajide Akeredolu, the son of Governor of Ondo State, has been sworn in as Director General of Perfomance and Project Implementation Monitoring Unit ( PPIMU) by his father on Monday, 13th December, 2021 with 14 others as State Commissioners.
The footage of the event captured Akeredolu trying to amend the buttons of the dress of his son, while the mother, Mrs Betty Akeredolu watched father and son with admiration.
Criticisms trailed the nomination and appointment of Babajide by his father as DG PPIMU in service of the state. Apart from some almajiri political appointees of the Governor, nobody in his right sense applauded the appointment. It must be noted that Akeredolu made history on the wrong side by being the first governor to appoint his son to a powerful position that is not recognised by law. In total defiance of the uproar that accompanied this abuse of office, Akeredolu has gone ahead to swear in his son.
In March, 2020 at the third anniversary of his tenure, Akeredolu actually sounded out the leadership of his party as to what he intended to do with Babajide, who he foundly calls "Baba" which means father in Yoruba language. He said "When somebody says Baba (Babajide) is this, l just laugh at them. If l wanted to make Baba my Chief of Staff, he can be, did you do more than him in the campaign? Ask yourself how many of you did more than Baba in the campaign? How many? The young boy was going everywhere and all of us saw him…… I will put him somewhere, there is nothing anybody can do. I will put him there, there is nothing anybody can do. Is he not my son? Is he not from Ondo State? Has he not worked?".
This was when the foundation for the illegal appointment was laid. Unfortunately, from the Governor's own account, the son's only contribution was that he went everywhere with him during the campaigns. He should have been at home watching television as heir apparent.
What the Governor said during the swearing in was more stomach aching. "The PPMIU was established to recalibrate the administration's development agenda, and assist in ensuring value for all resources deployed by the government. The agency will design and implement project management, monitoring and evaluation platform for the Governor's office to coordinate, monitor and evaluate the execution of the Ondo 8-point agenda.
This administration has been engaging members of the young generation on whose shoulders the future of this great country rests. We will continue to engage worthy youths, regardless of degree of affinity or otherwise. Only the fit and proper will join us".
For him to deliver the entire processes of procurement, projects design, implementation and evaluation of the Governor's office to a young man without any cognate experience other than following his father during campaigns is the level Akeredolu has reduced governance in the State.
How many of such young men, who accompanied him everywhere have been acknowledged by Team Aketi? How many of them, some with intimidating credentials have been given any kind of appointment not to talk of the biggest in cabinet?
As it stands, all the files treated by State Commissioners will have to land on "Baba's" table for onward transfer to Akeredolu ( if need be). The statutory oversight functions of Ondo State House of Assembly have also been surreptitiously annexed by Babajide's office. In the history of Ondo State, no Governor has openly displayed this level parochialism and nepotism.
Now that Babajide Akeredolu has become a public servant, it is now mandatory for him to declare his assets with the Code of Conduct Bureau. He has to do so at the beginning and end of his tenure as DG, PPMIU. He must declare all the houses and petrol stations he bought with the N430m he collected from the Ondo State treasury without lifting a finger.
He is under the law, expected to declare the source of his billions syphoned from Ondo State. He is expected to declare where he ever worked before his father was elected as Governor for him to have acquired such assets. Babajide's father is a lawyer, l expect him to know that, any of his properties not captured in his Code of Conduct Assets Declaration forms will be forfieted to the Federal Government.
It is more than three weeks that Mr Governor's son took office as DG in the Ondo State public service. By now he should have completed his Assets Declaration forms. If he has not done so, it is in his best interest to do so with alacrity. If he fails to include his prime properties, he ought to know the Implications. This is where greed has led father, wife and son.
This series will continue shortly.