COVID-19 Update: Nigeria Confirms 296 New COVID-19 Cases, Total Infections Now 53,317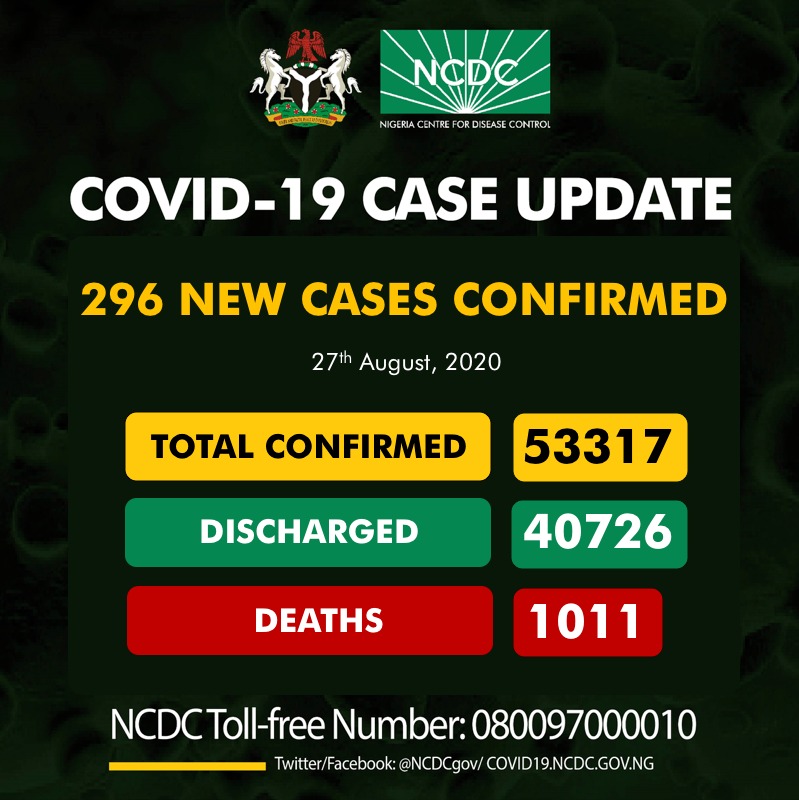 Daily Metro News NG
Nigeria has confirmed a total of 53,317 COVID-19 cases, with the new 296 cases recorded on Saturday. The records as posted by NCDC revealed that Nigeria has 1,011 deaths recorded so far.
These figures were revealed in the official Twitter page of the Nigeria Center for Disease Control, NCDC, Saturday night.
The new record revealed that Nigeria now has a total of 53,317 infected patients, with a total of 40,726 patients discharged, while 1,011 deaths have been recorded across the nation.
The latest record released by the NCDC revealed that Plateau State top the list of infections of Thursday, with 85 new cases, while Enugu and Oyo state came second and third respectively with 46 and 31 new cases recorded for Thursday.
Breakdown are as follows: 296 new cases of #COVID19Nigeria;
Plateau-85
Enugu-46
Oyo-31
Lagos-21
Rivers-20
FCT-15
Kaduna-13
Bauchi-12
Delta-11
Ekiti-11
Akwa Ibom-7
Ebonyi-6
Kwara-5
Ogun-4
Osun-4
Gombe-3
Niger-2
53,317 confirmed
40,726 discharged
1,011 deaths