Edo 2020: Oshiomhole Begged Me To Join Him Impeach Obaseki – Edo Deputy Governor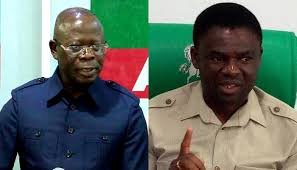 Daily Metro News NG

The Edo State Deputy Governor, Comrade Philip Shaibu, pledged his loyalty to his boss and Governor of Edo State, Godwin Obaseki. This was as a result of his firm support for Obaseki despite the persuasions from the former National Chairman of the APC.
In a chat with journalist on Thursday at his Benin city residence, Hon. Shaibu revealed how the former APC National Chairman, Comrade Adams Oshiomhole, persuaded him with money to join members-elect in a move to unseat Obaseki as governor for him to take over.
Hon. Shaibu said he knelt down to beg Mr Oshiomhole to let go of any grievance he had against Obaseki because in his view, the governor was doing well for the People of Edo state, a plea which Shaibu says fell on deaf ears. He added that when he asked what the offence of Obaseki is, he only gave me flimsy reasons.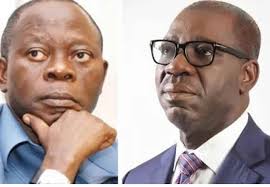 The Edo deputy governor went further to reveal that on realizing that Oshiomhole had declared a war against the governor, he told the former governor that he will stand with Obaseki come what may.
"Oshiomhole want me to betray Obaseki, but I told him that if I did not betray you when I was NANS President and you are NLC President, and when I was the majority leader of the House of Assembly and you are governor of Edo State, I will not betray Godwin Obaseki", he said.
According to Philip Shaibu, the ploy was to remove governor Obaseki at the onset and replace him with his deputy, but he said he refused, stating that it was not his "will nor nature" to betray.
Mr. Shaibu recounted how he fought on Oshiomhole's side, stressing that he hates and has been fighting against oppression, and will not stand for the form of oppression which Oshiomhole is championing.
The deputy governor said he will fight to the very last to ensure that Obaseki is defended, the same way he defended Oshiomhole when there were plots against him and against his administration in Edo State.
He said, "I call on President Muhammadu Buhari to use the same method he used to checkmate Ibrahim Magu to checkmate Oshiomhole too as he has been laundering money to buy supports. Ha gave three lawmakers forty million naira each to buy them".
He, however, challenged Oshiomhole to come and test his popularity when the votes are to be cast, claiming that the former chairman of the APC has lost his integrity and is no more the man of the people he once was perceived to be.