Idanre Monarch Sue For Peaceful Electioneering Campaign Devoid Of Thuggery And Violence
…Seek The Siting Of Our Much Desired Institution Of Higher Learning In Idanre Land Instead Of Election Violence — Owa Of Idanre Kingdom Tell Political Class
…A Peace Accord Will Be Signed Under My Supervision As The Chief Security Officer Of This Local Government By Monday, 16th January 2023 — Hon. Kayode Aroloye, Idanre LGA Chairman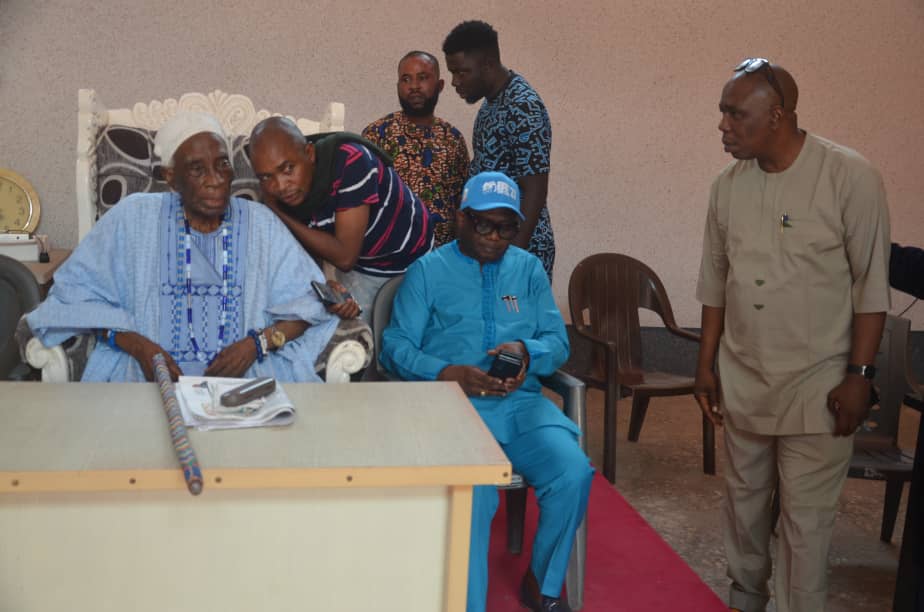 Daily Metro News NG
Sequel to some unpleasant events featuring destruction of properties, bodily harm and peaking at the alleged assassination attempt on Hon. Tajudeen Adeyemi Adefisoye, the MHR representing Idanre/Ifedore Federal Constituency and the attendant accusation of the alleged sponsor of the assassination attempt, Owa and the other concerned stakeholders filled the Owa's Ugha recently, all with the sole aim of restoring peace which Idanre Land had hitherto been noted for.
Chief Bello Ilemobola, the Adaja of Idanre Kingdom, opened the floor seeking the favor and grace of God to reign in the gathering and ultimately bring peace to Idanre Land and His Imperial Majesty, Oba (Dr.) Frederick Adegunle Aroloye, Arubiefin IV, (JP) OFR, Owa of Idanre Kingdom and Paramount ruler of Idanre Land told the gathering was to ensure peace comes back to Idanre Land as he was not happy that his children proving their mettles in the political front and who are sources of joy for him and all Makanres are fighting themselves. The monarch appealed to all the "warring" parties to freely express the reason or reasons for their anger.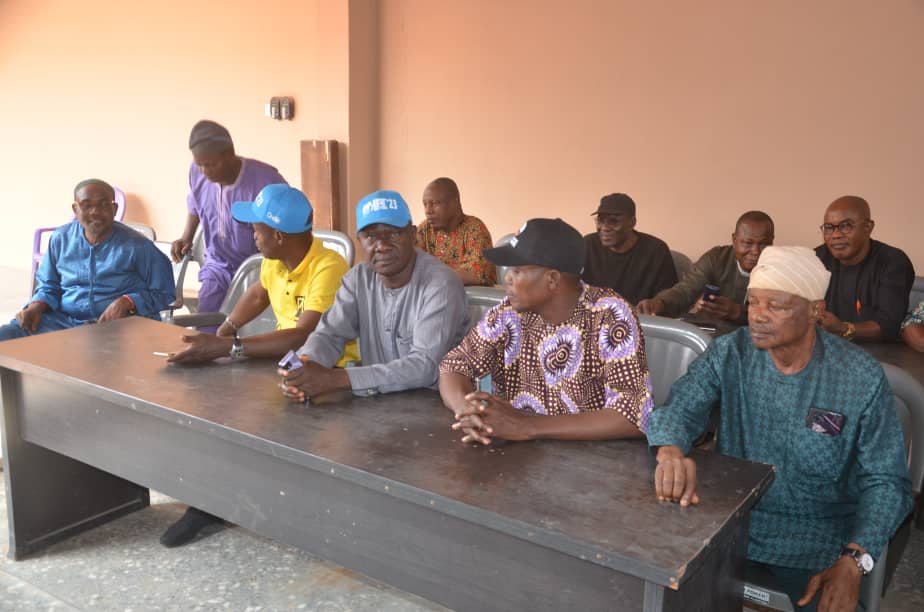 Chief Dr. Kola Ademujimi, former Chief of Staff to Governor Rahman Mimiko suggested people should see the gathering only as avenue for peacemaking and hence speakers should be gentle, follow order and avoid inflammatory languages which could further fuel the fire of discord. About two speakers from each side of the hall should speak, he suggested. He stated that some members of his umbrella clutching "department" were attacked by people who are in the broomy "department". He said musical equipments of a member along Commercial Road and a beer parlour were vandalized by people yet to be identified while the umbrella academy suitor for Ondo State House of Assembly was assaulted. He said they decided to come to report to the palace because the ugly trend started since Sunday continued unabated. He expressed reservation with the way the DPO, who he accused of being one sided. Chief Ademujimi enjoined Hon.Tajudeen Adefisoye, the MHR representing Idanre/ Ifedore Federal Constituency not to tarnish the good image of Idanre Land by claiming there was an assassination attempt against him.
Hon. Marcus Akinnayajo, who regretted the whole saga because Idanre is supposed to be one always. The former Idanre Local Government Chairman traced the genesis of the whole trouble to some people who allegedly went round the second day after the Presidential candidate of the APC visited Ondo State claiming that the APC didn't have much members and hence resorted to hiring crowd that went with them to the Akure rally.
Hon. Engr. Ade Adetimehin, Ondo State APC Chairman, who is also an Idanre indigene and Prince, expressed his anguish that such a thing should happen in his own backyard of Idanre nativity and washed off his hands over any act of thuggery, violence or ballot snatching. He used the occasion to call on politicians to work on their good images and work well so that they can get votes as BVAS had erased rigging or snatching votes etc. He exonerated the DPO from blame over the unpleasant situation but opined that those who blared speakers round to say bad things about another group caused the squabbles. Thugs, he said, always cause trouble and run away because many of them are not Idanre indigenes. He said it was too bad that direct shots were aimed at Hon. Tajudeen Adeyemi Adefisoye and urged the political class to examine themselves if they really want thuggery out of the lexicon of Idanre's political diary. He wondered why there should be political violence now and revealed that there had been no violence against his kinsmen of the broom department since six years of his being in saddle of administration of Ondo State.
Hon. David Adegbeyeni alias, "Ogidi" appealed that all present should say the truth. He warned that if thuggery is not curbed it will blossom to a sort of self inflicted affliction that may be difficult to tame in future (like a rabid dog or Frankenstein monster).
Dr. Tayo Dairo', a former PDP Chairman in Ondo state expressed his utmost disdain and anguish on hearing that the two highly promising and well to do sons of Idanre Land, Small Alhaji and Obete were on war path, saying Idanre will be the ultimate loser if anything should happen to any of them. He believed those fueling and fanning the embers of violence and thuggery are not Idanre indigenes, hence they will run away after causing chaos. He reminded the Idanres how closely related they have always been and should always be, irrespective of whichever school of interest they may find themselves.
Hon. Aderemi Oyewole alias Gulder narrated how he and some people were attacked with some musical equipments and motorcycles destroyed along Commercial Road shop of one of his "classmates" and a beer parlour nearby. He said gunshots sang deadly songs around the premises while his personal residence also received "unwanted visitors" in the wake of the traumatic saga.
Hon. Princess Tosin Ajirotutu Ogunlowo stated that after arriving from Akure venue of the Presidential candidate campaign of their group, member eyeing the "School Prefect" seat, they started dancing from Methodist High School, Idanre junction and passed through Commercial Road to Broad Street till they got to their party secretariat without destroying anything, not even a single chair not to talk of eleven as High Chief Rufus Olatunji, the Lisagha of Idanre Kingdom claimed. She exonerated the DPO from any blame in the whole saga because according to her, she had been seeing the DPO as being sympathetic to the umbrella team.
Hon. Alhaji Tajudeen Adeyemi Adefisoye alias, "Small Alhaji", who decked himself in an immaculate white "malamiya" dress narrated his close shave with death as rains of bullet fell on his car and only Providence saved him. He wondered why anybody would want another dead, after all, " It is God who gives power and positions to whoever He likes". He revealed that he and Festus Olarewaju Akingbaso Fessywest had been having very good working and even political relationships before. One of the assailants, he revealed had been arrested and with the police in Akure, awaiting prosecution as the meeting was on going.
Hon. Festus Olarewaju Akingbaso Fessywest, who washed off his hands free from the alleged assassination attempt, condemned thuggery and violence and wondered why the escorts assigned to Hon. Tajudeen Adeyemi Adefisoye did not "act" appropriately. He also narrated how cordial his relationship with Hon. Tajudeen Adefisoye was. He prayed that nothing evil will happen to Hon. Tajudeen Adefisoye and himself as well.
Chief Ojo Victor Alalabiaye, the Osolo elect of Idanre Land thanked God for saving the life of Hon. Tajudeen Adefisoye as he would have died if not by the grace of God and the fact that the vehicle was bullet proof. He said he could not respond to a distress call because his traditional role forbids him to be there.
Hon. Taye Sunday, former Chairman of Idanre Local Government, also condemned violence and thuggery saying his era as Chairman of Idanre Local Government was an era of unblemished peaceful coexistence among the various parties in vogue then. He advised the DPO to delegate some of the responsibilities, especially those of distress calls to his trusted and experienced subordinates and appealed that whoever is in power should always be cognizant of future and history and hence "do good."
Chief Boluwaji Akinnibosun, the Igbatoyo and the Ojumu elect of Idanre Kingdom opined that those involved in anti party schemes or people who collect money from one group whereas they had collected money from the other group are causes of chaos among politicians.
The Divisional Police Officer, Mr. Clement Akinola expressed surprise that he was being accused of being one sided by one of speakers despite doing his best possible to ensure things go well in Idanre. He countered the accusation that there was a loss of life through thuggery during one of his stints in Idanre but rather, he always have peaceful era, daring anybody who cared to go into records. He lamented that Idanre is always regarded as one of the flash points of political violence in Ondo State. He declared that the responsibilities for ending thuggery lie squaredly on Idanres and called on its indigenes to redeem and enhance its image.
Hon. Prince Kayode Adebambo Aroloye, the Executive Chairman of Idanre Local Government decried the negative and disgusting image that thuggery and election violence are giving Idanre. He ordered that a Peace Accord will have to be signed under his supervision as the Chief Security Officer of the Local Government Area by Monday 16th January 2023. He called on the political class, community leaders and the influential ones to desist in obstruction of justice by intervening whenever police arrest suspected thugs, saying if one commits thuggery and goes for it others will learn from him. "Peace is not negotiable" he counseled. He used the opportunity to let the gathering know that there had been a rule that whoever wants to make political announcements or vehicle borne mobile campaigns should ensure he or she registers with appropriate authority first.
His Imperial Majesty, Oba Aroloye who thanked all for honoring his call for the peace meeting enjoined all to embrace peace and called on the parties to come and sign the Peace Accord as he said whoever fails to heed the call to stop thuggery and election violence in Idanre Local Government may be made to face the wrath of the ancestors of the Makanres. Oba Aroloye lamented that instead of frantically seeking the siting of the much desired institution of higher learning in Idanre Land, his subjects are dissipating energies and resources on destructive politicking.
Oba Aroloye later called Hon. Festus Olarewaju Akingbaso, Hon. Tajudeen Adefisoye, Hon. Princess Tosin Ajirotutu Ogunlowo and Hon. Aderemi Oyewole, told them to embrace themselves, hold his hand and prayed for them.
The royal father ordered that all cases or issues on the incidents should be withdrawn immediately in furtherance of the much desired peace in Idanre Land.
Meanwhile, Idanre Media Services investigations revealed that well meaning Idanre descendants, like Chief Dr. Anthony Adelanke Omolola, Chairman of Owa's 45th Coronation Anniversary Committee, the head of newly formed Idanre Development Assembly and the Otunba Atuluse of Idanre Kingdom and Dr. Yele Dairo, America based Idanre indigene, who coordinated the diasporan end of the Owa's 45th Coronation Anniversary Committee as well as Mr. Ilemobayo Adewalure (Mexico) had been calling parties and stakeholders to pacify the aggrieved parties and the motivate the palace. Dr. Omolola was full of praises for the Executive Chairman of Idanre Local Government, Hon. Kayode Aroloye for the giant peace making decisive actions.