Just In: Court Orders Ondo Assembly To Pay N15M Compensation To 3 Ondo Lawmakers Over Illegal Suspension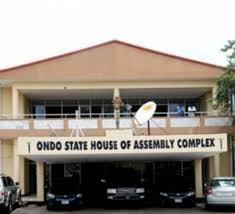 Daily Metro News NG
The Ondo State High Court in Akure today has ordered the state house of assembly to reinstate the Deputy Speaker of the Ondo state House of Assembly, Hon. Iroju Ogundeji and two other lawmakers who were suspended last month.
The three Lawmakers were suspended last month over alleged misconducts by the Assembly.
The court reversed the decision of the House over their suspension and ordered Ondo State House of Assembly to immediately pay all their entitlements and also pay a fine of five million naira to each Lawmaker as compensation to each of them.
Justice Ademola Bola, while giving the ruling maintained that it was illegal to prevent an elected legislator from duly representing his/her constituency.
The suspension of the three Lawmakers is not unconnected with their support for the Ondo Deputy Governor, Hon. Agboola Ajayi, who left the camp of the Governor to contest for the October 10 election in the state.
The suspended house members are: Rt.Hon Iroju Ogundeji, Hon. Wale Williams from Ondo west constituency 2 and Hon. Favour Tomomewo from Ilaje constituency 2.
The lawmakers were suspended for alleged uncomplimentary and unruly behaviors, which occurred after they refused to sign the impeachment notice served on Deputy Governor after he left the ruling All Progressives Congress(APC) to join the PDP, thereafter to join the Zenith Labour Party (ZLP).