Nigerian Ports To Commence Full Automation And Cargo Tracking — Adegboyega Oyetola, Marine and Blue Economy Minister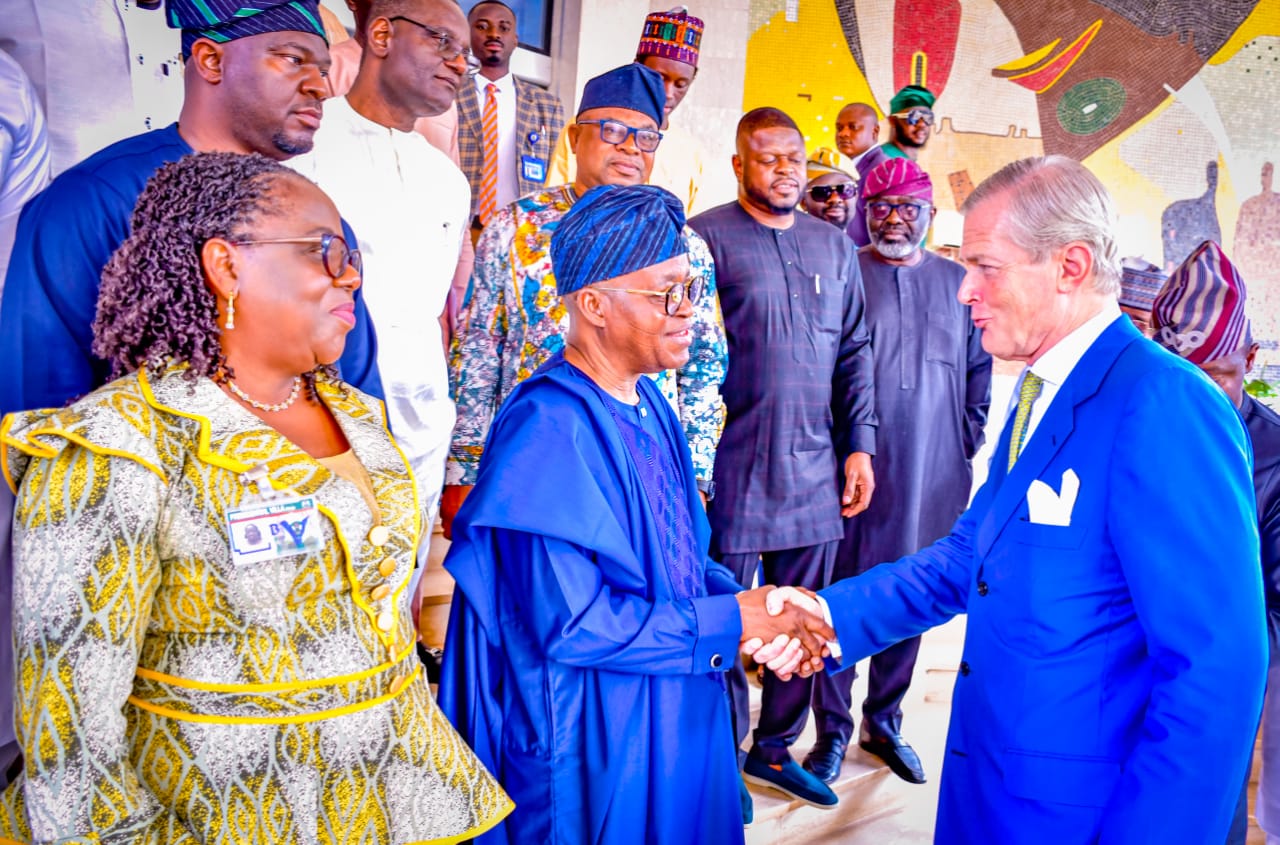 Deji Adebayo, Abuja
The Honourable Minister of Marine and Blue Economy, Adegboyega Oyetola has disclosed that the Nigerian Ports Authority (NPA) will soon commence the implementation of full automation and cargo tracking across the various ports in the country to promote Port efficiency and Ease of Doing Business.
Oyetola made the disclosure recently in Abuja, when he received
a renowned entrepreneur and sustainability expert, Prof. Gunter Pauli, who is on a three-day visit to Nigeria.
Pauli's visit was facilitated by his partners in Nigeria, Premium Blue Economy Innovation and Investment (PBEI& I).
The Minister stated that the Federal Government is keen on the diversification of the Nigerian economy away from the oil industry, hence, it was intentional when it created the new Ministry of Marine and Blue Economy.
"Again, we are going to be talking of automation of ports to make them more efficient. I would like to tell you that in another two years, it will all change. We are bringing in automation and cargo tracking as we are working on that for implementation" he said.
Speaking further, the Minister said that the government is interested in partnering with relevant stakeholders under the Public Private Partnership (PPP) arrangement to maximize and explore the resources of the ocean sector for rapid economic development, improve the livelihood of its people and create jobs as well as preserving the health of the ecosystem.
According to him, "seventy percent of the resources that are available actually comes from the ocean, and we have it in abundance here".
"I believe in the Public Private Partnership arrangement. The government will create an enabling environment for businesses to thrive and our concept in dealing with these, is purely in PPP, and I see quite a lot of opportunities there," Oyetola said.
Also, the Minister noted that the Nigerian water ways have enjoyed adequate security with no single incidence of piracy for the past two years. He, therefore, called on investors to take advantage of the opportunities and partner with the newly created Ministry to drive development. "We have sufficient control of our ocean in terms of security and there has been nothing like piracy in our ocean. So, the fear of investors about the safety of their investments is out of it now." He argued.
Speaking earlier during the visit, Prof. Gunter Pauli said his team was in Nigeria to partner with the Ministry on commercial and technological innovations and job creation around the sector. He argued that his partnership with the Ministry will attract foreign and local investments that would create a lot of opportunities for the Nigerian youths.
Also present at the event, was the Permanent Secretary, Federal Ministry of Transportation/Marine and Blue Economy, Dr. Magdalene Ajani, Directors and Heads of Parastatals under the Ministry and other Senior Management Staff.
Henshaw Ogubike mnipr
Director, Press & Public Relations.
29th September, 2023.