STATE BROADCAST: PDP Fault Akeredolu Says Message Hopeless, Shameful, Urges Citizens To Ignore Address
…Akeredolu's State Broadcast Is A Confirmation That His Party, APC, Has Failed Nigerians — Ondo PDP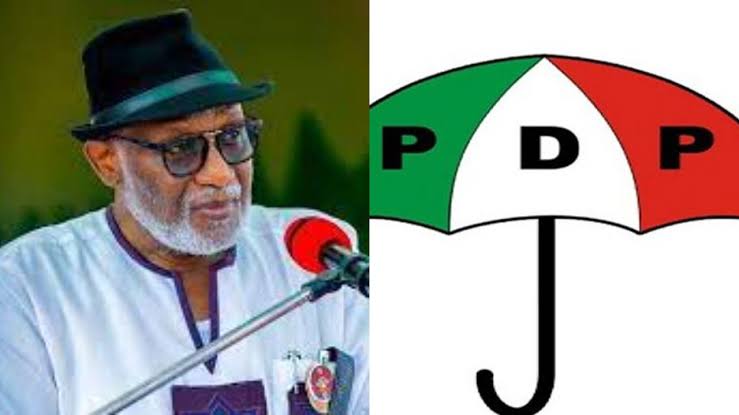 Deji Adebayo, Akure
The Peoples Democratic Party (PDP), Ondo state chapter has fault the state broadcast of the state Governor, Mr. Rotimi Akeredolu, SAN, over it's failure to address key issues at the moment. PDP believes Akeredolu's message is hopeless, shameful and shouldn't have come at all.
According to Kennedy Peretei, State Publicity Secretary of PDP in a press statement said; "Akeredolu's state broadcast is a confirmation that his party, apc has failed nigerians and that the address fell far below the expectations of Ondo state residents".
Below is the press release unedited:
23rd February, 2023.
PRESS STATEMENT.
AKEREDOLU'S STATE BROADCAST IS A CONFIRMATION THAT HIS PARTY, APC HAS FAILED NIGERIANS
This morning, Ondo State Governor, Mr. Rotimi Akeredolu, SAN, delivered an address that fell far below the expectations of Ondo state residents.
The Governor laid the blames of the present sufferings and agonies of the people, squarely on the feet of his party, All Progressives Congress, (APC). How he turned round almost immediately, to plead for the same party that
"drew a dagger on the heart of the people", is the biggest surprise.
Mr. Akeredolu, a Governor elected on the platform of APC, vilified President Muhammadu Buhari for policies designed to precipitate national crisis, and the failure of their party, and by implication the failure of their presidential candidate, Asiwaju Bola Tinubu. Akeredolu joins the league of APC Governors and Ministers that have openly declared that, the Buhari APC government has achieved nothing in 8years.
The empty broadcast, full of lamentations failed in his attempt to dissociate APC candidates from the present gloom into which APC has sunk Nigeria.
From the confessions of APC key players, it is clear that, a vote for any APC candidate in the forthcoming elections is a continuation of the present situation.
The Peoples Democratic Party (PDP) Ondo State Chapter wishes to urge our people to disregard the address as it did not provide the slightest of succour like some other States are doing, but merely added salt to injury.
The affliction called APC shall not rise again in our land. The final burial rites will be performed in the next two days.
Kennedy Ikantu Peretei.
State Publicity Secretary, Ondo PDP.