Tinubu Has Good Antecedent To Be Nigeria's President, I'll Support Him —Afenifere Leader, Fasoranti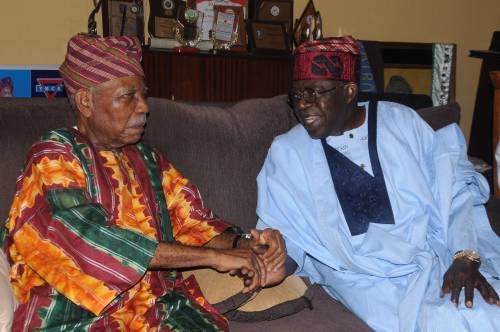 Daily Metro News NG
A renowned Afenifere leader, the Yoruba Sociopolitical Group, Pa Reuben Fasoranti has said he is in total support of the Presidential ambition of former Lagos State Governor, Asiwaju Bola Ahmed Tinubu, noting that he is eminently qualified.
Pa Fasoranti said this while paying host to the leadership South West Agenda 2023 (SWAGA"23) in his Akure country home.
On Tuesday, SWAGA delegates, led by its National Coordinator, Senator Dayo Adeyeye, appreciated the Yoruba leader for accepting and accommodating them.
Adeyeye, while presenting the purpose of their visit, noted that it is time for Yoruba people to rally round the former Lagos state Governor to become the President of the country in 2023 as he has paid his due.
Adeyeye said; "We are here because of the coming 2023 General elections to solicit support for Asiwaju Bola Ahmed Tinubu.
"The APC, during its foundation, has agreed to allow the South take over from President Muhammadu Buhari in 2023. So, we the people of South West region must now start working to ensure our interest is protected.
"Our interest is Bola Tinubu. We have already visited many important stakeholders to preach this agenda and they are happy with the movement.
"You, as our father and leader must not be in the dark about the movement as your endorsement and prayers will go a long way
"Tinubu is not aware of our moves but we have weighed him and we see him as the best option to take over from President Muhammadu Buhari in 2023. So we want him to contest", he concluded.
Pa Fasoranti while welcoming the SWAGA delegates described the movement as one in the good interest of the South West and the Country at large.
He stressed that Tinubu has earned his support with his antecedents and capabilities.
He said; "Someone once came to me 5 days ago and spoke with me about Tinubu's Presidential ambition. I told him he (Tinubu) has my total support.
"Judging from his performances and antecedent, he has what it takes to be the President and I am very sure he will do what the people wants when he gets there.
"The lord will give the group (SWAGA) the strength to achieve this goal. Tinubu will emerge with the backing of God" He concluded.
Other SWAGA delegates that visited Pa Fasoranti include Senator Adesoji Akanbi, National Deputy Coordinator of SWAGA; Former SSG in Ondo state and SWAGA state coordinator, Hon. Ifedayo Abegunde; Former National Assembly members and party leaders across the 6 states in the South West region.
The SWAGA leadership is expected to continue its consultation as it prepares to officially inaugurate the movement in the state on Thursday.