UPDATED: Four Die, Banks Vandalised In Edo Protest Over Cash Swap Crisis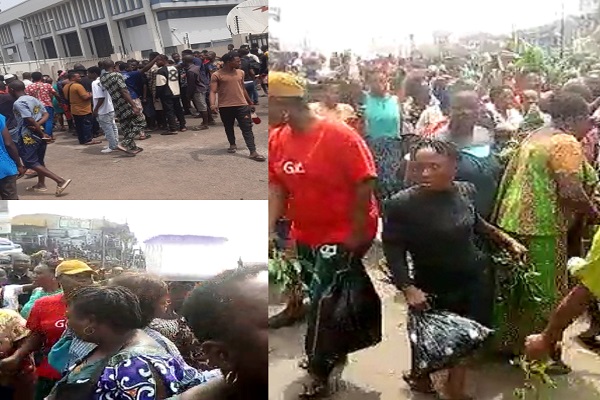 Daily Metro News NG
At least four protesters have been reported dead on Wednesday when violence erupted in Benin city, Edo State capital over cash swap policy of the Central Bank of Nigeria (CBN).
Those killed were said to be teeming customers of commercial banks who attempted to deposit their old naira notes at the Central Bank of Nigeria's (CBN's) branch on Akpakpava Road, Benin city.
Two of the deceased were young men and women hit by direct gunshots from policemen in front of the CBN's branch by the popular Ring Road.
The policemen also fired tear gas canisters, to disperse the surging crowd of protesters.
One of the protesters, who did not give his name, told Journalist in front of CBN, that he saw the bodies of the four victims with three of them hurriedly evacuated by policemen.
He said the depositors resisted the evacuation of the fourth victim, a fair man, who should be in his 20s.
Fully-armed soldiers and policemen prevented the depositors from moving close to the main entrance of the CBN's branch.
In reprisal to the security agents, the protesters angrily vandalised commercial banks in the neighbourhood.
Edo Police Armoured Personnel Carrier (APC), marked NPF 3200 D, led many patrol vans from the Command.
The police operatives shot directly at the protesters and sporadically into the air while the displeased depositors also pelted the speeding vehicles of the security personnel with stones and other dangerous objects.
Most of the major roads in Benin and its environs were blocked by the protesters, who made bonfires on them, with motorists hanging leaves on their vehicles to prevent being attacked and to show solidarity.
Edo Police Public Relations Officer (PPRO), Chidi Nwabuzor, a Superintendent of Police (SP), could not be reached for reaction as of the time of filing this report.