The Very Bad Habits Of Bashorun Dele Momodu Some People May Not Like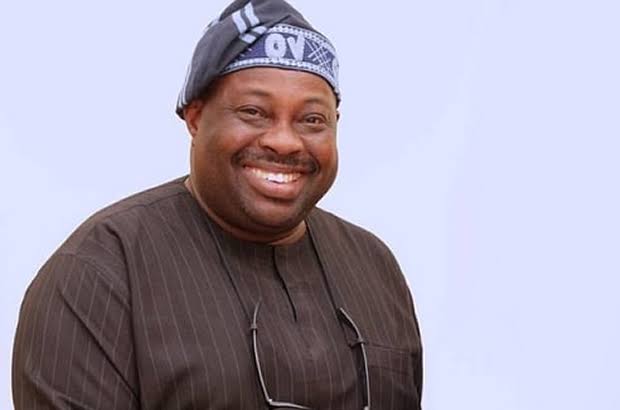 By Adeola Agoro
"Become the kind of leader that people would follow voluntarily; even if you had no title or position." – Brian Tracy.
From some products which have been around from one generation to the other, through different rebranding, to associations that started from local levels till they become international entities, some names have been there for years and they continue to be relevant.
Bashorun Dele Momodu (born Ayòbámidélé Àbáyòmí Ojútelégàn Àjàní Momodu) is one name that has remained relevent from his first job
as staff writer with African Concord magazine, owned by late MKO (Moshood Kashimawo Olawale) Abiola till now that he is a power to reckon with in the politics of Nigeria and the worlds of publishing and electronic broadcasting the world over.
What has made Dele Momodu so relevant after all these years?; one would want to know.
The secret is not far-fetched. Bashorun Dele Momodu has been reinventing himself over the years.
Before one delves into the meaning of reinvention and how he has used it to advantage, I will like to say that some very bad habits of Bashorun Dele Momodu are the reasons behind this piece.
I grew up knowing the name Dele Momodu but I first met him when he assumed duty as the Director of Strategic Communications of the PDP Presidential Campaign Council.
When it was whispered to me and others that 'Oga' Dele Momodu had resumed at APCO (Atiku Presidential Campaign Organisation), and I was advised to go and greet (welcome him), I had mixed feelings.
Here was somebody whose name I had grown to know – popular, successful and highly connected.
The first thing I asked the person (also coincidentally called Dele) who asked me to go and see him was if he was expecting me and I quickly said to him that I had no appointment to see him.
The other Dele smiled and said, "He's a very simple person. He will see you immediately."
Reluctantly, I followed him to Bashorun's floor and we went straight to his office.
Dele Momodu had some guests but he quietly acknowledged our greetings. He paid a little attention to us and without saying much, he went back to what he was doing before we came in and I knew it was time to go.
I was later formally introduced to him by his former classmate, Professor Wale Oladipo, the Deputy DG of the Presidential Campaign Council.
The day Prof (the general name for Prof Wale Oladipo) took me to his office for that formal introduction, I saw first hand the way two former classmates have remained great friends over the years.
They bantered, they recalled their school days, they laughed about events of the past and they easily went into the serious business of the day.
Both men are in their 60s, which means they have maintained close ties for about fifty years and each has remained unstained and unspoilt in the estimation of the other.
Both Bashorun Dele and Prof met when they were both in Form 2. They were in the same class.
Without shame, Bashorun Dele Momodu told the story of how he was always getting the lowest grades in class while his friend, Wale was one of the most brilliant in class, yet, they started and maintained a very deep friendship that has stood the test of time.
Bashorun Dele Momodu and I slowly started a working relationship, with me making my presence felt and he acknowledging me.
Within a short period, he began to contact me with materials for the job and he would always respond to every material I sent to him, no matter how busy things got with him.
Recently, a known name in the opposition party wrote an inciting letter to Bashorun Momodu. It started with glowing attritubes of the person that he stood for and it slowly got to a dimension that would anger an average person.
I forwarded the article to Bashorun and asked if I should respond to it. He replied immediately that there was no point.
I later discussed it with him and his response was, "Would you fight with everybody that dares you to come out to fight when there is no reason whatsoever for a fight?"
He told me how close he had been with the letter writer and his family and how he wouldn't allow anything make him say something negative about him.
He then asked that the matter should end there and never be brought up again.
I started developing a little 'dislike' of Bashorun's habits. That was when I sat down to consider some of the things I've noticed about him for years and some that I've picked up since knowing him.
While it might seem that many people forget who they are when they are provoked, Bashorun Dele Momodu knows who he is and he methodologically protects his image at all times.
If I didn't sit down to study him, I would have called him a 'smooth operator' but no, I have come to see him as one person who reinvents himself so he can stay relevant for more years to come.
What are the secrets I have come to see about Bashorun's habits that some may not like?
He keeps his friends. In today's world where people make friends and unfriend them at will, Bashorun Dele Momodu keeps his old friends and makes new ones.
He might not always agree with some of the behaviours of people from the past (or present) but he will not drag them to the gutters. He will only say his truth quietly without throwing a punch. He might not, however, look back to see whose face is red.
He listens to ideas: He 'steals' ideas by listening to people with very brilliant ideas and he works with them to achieve the best there could be. So whether young or old, he sits with those who stimulate him intellectually and he makes something out of the ideas they have formed.
He's 'snubbish': People may see his attitude as some form of snobbery. Once what you're saying does not alignn with his core values, he pretends not to notice you.
He concentrates on what works and pretends not to even notice that you're there.
And until he's sure you're not a time-waster, he might never get you to be in his corner. That explains why he didn't grant me much time on our first day of meeting.
He didn't know me. He didn't know if I had any values to add and so, he didn't waste time with me.
Time and events proved that he could work with me.
He's very innovative and intelligent: He doesn't even pretend about this. He reads widely and he's always ready to start something new and he does, actually. So, he has no time for frivolous things.
He has a team that works: While people beat about the bush, not even know where to start from, he quietly builds a team that works and it doesn't matter who you are, so far you fit in, he works with you.
He communicates: And that's with those who mean anything. He doesn't.just talk, he communicates and he does it with those who matter to the job at hand.
He's like the wind: He maintains a kind of behaviour that makes him almost invisible. He doesn't move with a large crowd like most politicians do. He goes into a place almost without being seen and he exits the same way.
Bashorun Dele Momodu is not an example of some of the leaders we see around, and so, some people may not understand his habits and they may not like them.
But when it comes to reinventing one's self, Bashorun Dele Momodu is an example of someone whose habits should be studied.
It's still early days as a student in his style of leadership, yet, I've learnt a lot already. The years ahead are definitely going to be loaded.